FIBER OWL 7 PLUS CERTIFICATION TEST KITS

WHY SPEND

THOUSANDS

MORE FOR TRI-REPORTS?


(configuration may vary from photo)

WIN MORE BIDS FOR YOUR COMPANY

with Fiber OWL 7+ certification test kits
and OWLView Tri-Reports!

Sooner or later, technicians will be required to provide their clients with comprehensive certification reports that include link certification results, OTDR traces and events, and endface analysis.

Qualify for Cabling System Warranties!

Without proper certification results like those provided by OWL certifying meters and adherence to cabling system manufacturer requirements, fiber installations may not qualify for fiber cabling system manufacturer warrantiePatch cords not included with test kits.Patch cords not included with test kits.

Call 262-473-0643 for more information.




Three reports on one page!

10-GIG LINK CERTIFICATION



Certify 10-gigabit optical fiber links




NOTE: Fiber OWL 7 Series multimode test kits are Encircled Flux compliant when used with EF-compliant Mode Controller cables.

Click here to learn more.
SCROLL TO THE BOTTOM OF PAGE FOR ADDITIONAL HELPFUL FIBER OPTICS VIDEOS
Fiber OWL 7+ Multimode Certification Test Kit
CERTIFICATION/OTDR TEST KIT
1
SKU
POWER METER
LIGHT SOURCE
PRICE


Multimode
K F7+ MX
Fiber OWL 7
(Model #: F7+)
WaveSource Pro MM
(Model #: WPMX)
CALL FOR PRICE
AND LEAD TIME
Optical Power Meter Port: LC
Multimode: 850/1300nm
OTDR Port: LC
Connector: SC
Optional accessories:
(1) 62.5/125um 150m OTDR fiber ring
(1) 50/125um 150m OTDR fiber ring
(1) USB video microscope
Fiber OWL 7+ Singlemode Certification Test Kit
CERTIFICATION/OTDR TEST KIT
2
SKU
POWER METER
LIGHT SOURCE
PRICE


Singlemode
K F7+ SX
Fiber OWL 7
(Model #: F7+)
WaveSource Pro SM
(Model #: WPSX)
CALL FOR PRICE
AND LEAD TIME
Optical Power Meter Port: LC
Singlemode: 1310/1550nm
OTDR Port: LC
Connector: SC
Optional accessories:
(1) singlemode 500m OTDR fiber ring
(1) USB video microscope
Fiber OWL 7+ Quad Certification Test Kit
CERTIFICATION/OTDR TEST KIT
3
SKU
POWER METER
LIGHT SOURCE
PRICE


Multimode/Singlemode
K F7+ MS
Fiber OWL 7
(Model #: F7+)
WaveSource Pro Quad
(Model #: WPMS)
CALL FOR PRICE
AND LEAD TIME
Optical Power Meter Port: LC
Multimode: 850/1300nm
Singlemode: 1310/1550nm
OTDR Port: LC
Connector: SC
Optional accessories:
(1) 62.5/125um 150m OTDR fiber ring
(1) 50/125um 150m OTDR fiber ring
(1) singlemode 500m OTDR fiber ring
(1) USB video microscope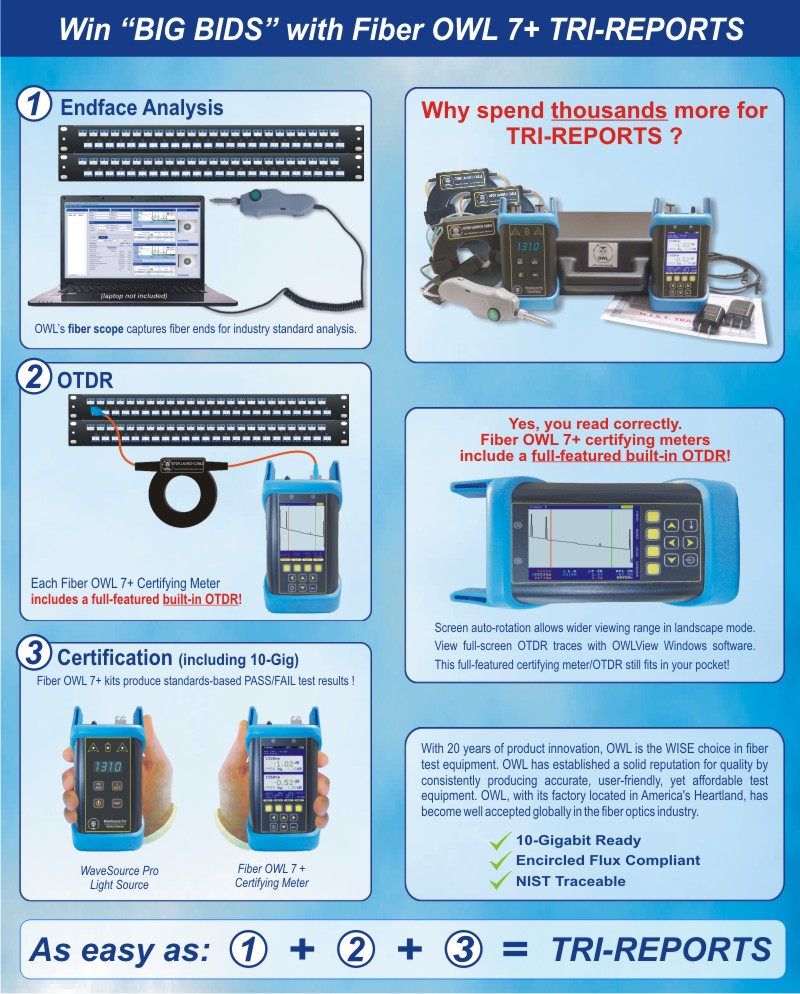 Other Useful Links
OWLView Software

OWLView Sample Report
Power Meter Detector Port Cleaning Procedure
Light Source Optical Port Cleaning Procedure
NOTE:

Fiber OWL 7 series testers come configured with the new
TIA-568-3.D
cabling standard.

This new standard introduces some changes in terminology that experienced fiber professionals should know in order to get up to speed with the new standard.

Click here for a slideshow that covers the main changes that specifically pertain to testing with Fiber OWL 7 series certifiers.

GO TO SLIDESHOW >>>
NOTE: Patch cords are not included with OWL test kits. Please call 262-473-0643 for more information.
NOTE: Products ship with owner's manuals on USB drive. Adobe Acrobat Reader (tm) is required to view these documents.